Mary loves gardening and has her raised garden bed ready for planting. Unfortunately, she is out of her favorite organic seeds. So, what does Mary do? Like 63% of all consumers whose shopping journey begins online, she turns to Google. After all, Google has an 83.8% search engine market share.
A quick search displays text-based organic seed store Google Ads at the top of her Search Engine Results Page (SERP). However, the result that captures Mary's attention the most is the Google Shopping Ads carousel at the top of the page.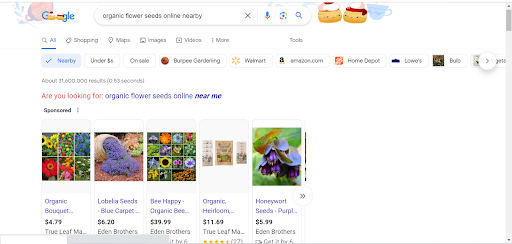 The world's largest search engine will also place product listing ads on the top right side of the SERP.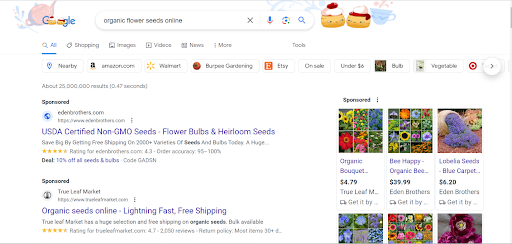 Additionally, you will find your Google Shopping Ad images on the Google Shopping tab. But that is not all. The Google Display Network and platforms like YouTube or Gmail also display Google Shopping ads.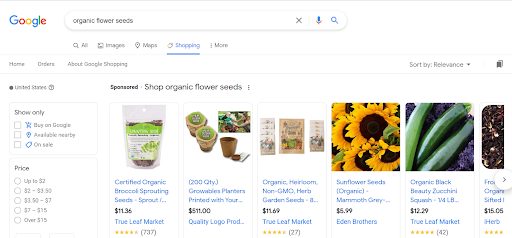 What are Google Shopping Ads?
Google shopping campaigns advertise individual e-commerce products on the world's largest search engine. This feature automatically generates shopping ads that display your online product's image, price, and description to shoppers. Google product listing ads display other product parameters like size, color, or material.
Are Google Shopping Ads and Google Ads the same?
Both advertising features function via a Google Ads or AdWords account. However, unlike text-based Google Ads, Google Shopping Ads display your product information like price, star ratings, shipping costs, and other useful shopping data on the SERPs.
That said, some Google Shopping ads are organic listings. The Google Merchant Center can generate free listings for your e-commerce shop if you correctly configure your product feed. You only need to opt-in for organic listings via your Merchant Center account. Organic Google Shopping adverts appear at the back after Google has displayed the competitively priced sponsored results.
How your eCommerce business can implement Google Shopping ads
So, say that you sell organic seeds online. How can you target shoppers like Mary, ready to purchase from Google?
1. Generate a product feed.
The first requirement is an e-commerce product store or website and a product feed. A product is a JSON, TXT, CSV, or XML file that stores your product's display data. So, you can generate a product feed using spreadsheets or a store's API. There also are apps that generate shopping feeds.
A shopping feed holds data like product images, prices, titles, availability, and description. They also display a product, ID, link, condition, shipping, and tax costs. In apparel shops, a shopping feed holds additional data like product age group, size, gender, material, quantity, or Global Trader Item Number (GTIN).
A shopping feed gives you access to product feed filtering features and makes your products searchable on marketplaces. It also ensures that you can automatically populate your product pages. On top of that, it is vital for dynamic remarketing campaigns that focus on your eCommerce shops' previous visitors.
2. Create a Google Merchant Center account.
Create a Google Merchant Center (GMC) account by logging in to your Google account. Verify your online shop's URL, and configure your shipping and tax preferences.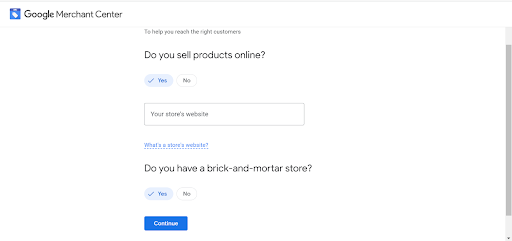 Then, submit an up-to-date product feed and add products to your Google merchant center account. Ensure that it is accurate, holds relevant keywords, and links to high-quality images for best results.
A GMC account is a middleman that uses your product feed to link to your e-commerce shop. It also links to your AdWords account. It will automatically update your product listing ads as the inventory in your e-commerce shop changes over time. The best practice is to ensure that your online shop's product feed has daily updates to please Google's SERP algorithms.
3. Link your GMC to your AdWords account.
After that, connect your Google Ads and GMC account. To set this up, navigate to the shopping ads page and use the 'link your account' option next to the Google Ads account tab. If you do not have an AdWords account, use your GMC account's merchant center to create one. Click on the tools icon, then go to Linked Accounts. Click the 'Your Google Ads account" option and select 'Create google ads account.'
4. Create your Google Shopping Ads
Click "+ Campaign" on your GMC account interface to create a Google Shopping ad. Then choose your campaign's objective. If, for instance, you want to direct more eyeballs to your organic seeds online store, choose the "Website traffic" objective.
After that, choose between the Standard and Google Smart Shopping or Performance Max campaign options. Smart shopping campaigns automate the ad bidding and placement process. In addition to that, they place Google shopping ads on other Google platforms like Google Display, YouTube, and Gmail. All you need to do is to name your campaign, including your budget, and set your bidding strategy. Choose the product you want to advertise.
On the other hand, a Standard Shopping campaign is a more hands option. As an illustration, you will manually test your text and image choices when creating an ad. You will also oversee your shopping campaign using Google shopping ads monitoring tools. So, you can dictate your location targeting, landing page links, and negative keyword placement.
Consequently, your ads only display to relevant audiences lowering your PPC costs. Wondering how to optimize a Google shopping campaign under the Performance Max option? You can use negative keywords, but you will need Google tech support to guide you through this process. Lastly, Standard product listing ads appear on Google's search results and the Google Shopping tab.
Benefits of Google Shopping ads for eCommerce businesses
Google Shopping Ads has an easy setup process through Performance Max Ads automation features.
They are a budget option and with low cost per click. In contrast, the average Google Ads CPC for the home and home improvement niche is $5.75. Art, travel, and real estate industries have the lowest Google Ads CPC at an average of $1.46 CPC. So, an organic seed online store Google Shopping Ad is 8.7 times cheaper than its text-based Google Ad alternative.
Google Shopping ADs are visually appealing, a feature that enhances their conversion rate. Consequently, sectors that have high optics features like HVAC, climate control, travel, entertainment, food, and gardening enjoy a low-cost higher CTR. As an illustration, your online organic seed shop Google Shopping Ads will enjoy a 0.90% click-through rate for a tiny fraction of your AdWords budget.
Google Shopping Ads have an average 1.91% conversion rate depending of the industry, because they draw in qualified traffic from the web, so more ROI for your Ad budget spend.
Google Shopping Ads display crucial product information on the SERPs, eliminating shoppers' friction when opening multiple eCommerce pages. So, at least 85.3% of all AdWords clicks originate from Google Shopping Ads. As a result, these ads consume over 76% of all ad spend.
They also have a broad reach displaying on a wide range of Google Partner sites and the Display Network.
Google Shopping ads tracking has valuable reporting tools that you can use to optimize your campaigns for high ROI.
Google Shopping Ads are mobile-friendly and optimized for 60% of online traffic that visits the web using handheld devices.
There you have it, many reasons why you should get started with Google Shopping Ads for a high return on your AdWords budget. Are you ready to start your Google Shopping campaign? Leave us a comment and let us know.
We'd Love to Hear from You
Bespoke digital campaigns

Achieve a more efficient linear workflow

Streamline communication

Allow for more adequate comparisons

Deep data analysis to adjust and readjust strategies for success