If you are in the home improvement or home furnishing industry, you might think digital marketing campaigns won't be effective in driving traffic to your local business. Although we live in the world of e-commerce businesses, it's still just as crucial for brick n mortar storefronts to grow their online presence.
Home improvement and furnishing companies are popular across the United States, with many customers being driven by persuasive imagery and marketing that influences them to take action. Digital marketing could be exactly what your business needs to attract, retain and convert new clients.
Keep reading to learn some helpful tips about getting started with digital advertising for home improvement businesses.
Why Is Digital Marketing Important for Home Improvement Businesses?
The majority of customers today spend hours each day online, in fact, the internet is the first place they will check for businesses near them or potential competitors in the local area. In 2022, a home improvement business with an obsolete online presence will lose hundreds of potential leads, even if you have the best services on the market.
Digital advertising allows home improvement businesses to niche down on their target audience with specific messaging that connects with customer pain points. If you offer multiple services, you have the flexibility to create different sales angles that attract each section of your clientele.
A comprehensive digital marketing plan can help your home improvement business become an industry leader in your local area, meanwhile, attracting high-ticket customers organically. As you grow your audience, you'll start to gain customers through word-of-mouth marketing and customer recommendations.
All of these elements work together to increase business productivity and efficiency, while showing prospects that your services are a trustworthy investment in their property.
Best Digital Marketing Strategies for Home Improvement Businesses
Search Engine Marketing is important for boosting your rankings on search engines while helping your business attract more organic leads. SEM is different from SEO since you are buying paid search ads on Google. If buyers search "granite bathroom renovations" or "interior designer near me," your local home improvement business will show up in the search results.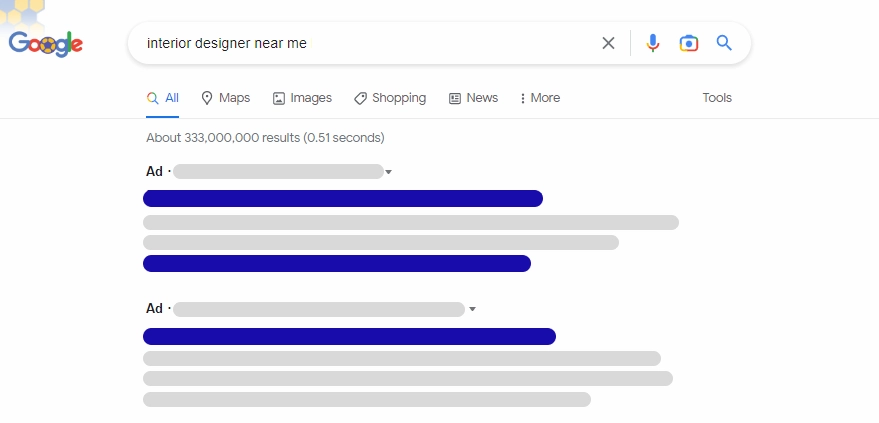 SEM works alongside SEO to boost your rankings, as SEO typically takes some time to gain traction and improve site visibility. SEM allows you to buy your visibility directly, which is incredibly important for local home improvement companies trying to boost their customer traffic.
Consulting a professional is highly recommended if you want to protect your bottom line while seeing a significant boost in your SEM analytics. We work alongside our clients using sophisticated algorithms and AI to determine exactly what your customers are looking for and how you can target them directly.
Search Engine Optimization (SEO)
SEO, or search engine optimization, is quintessential in the home improvement niche since many topics and services are highly searched by customers. Keeping up with a regular blog can also be a great way to showcase your service and attract clientele by leading with value.
For example, if you are a kitchen home improvement business that focuses on countertops and cabinets, you'll want to write blogs targeting keywords in this niche to boost your keywords rankings and overall blog quality for search engines.
Additionally, make sure that you are instilling on-site SEO that targets your services and highlights local keywords if you are a regional business.
Every home improvement business needs an informative website with high-quality images, valuable information, and a blissful user experience. Consider ways to boost your site's SEO through backlinks, keywords, educational blog posts and images that show off your offerings.
In the home improvement industry, your conversions will see a massive uptick when you show off your portfolio, and previous client success, while clearly explaining your specialties to new site visitors.

Home improvement or furnishing companies are not excluded from social media marketing. In fact, due to the nature of the industry, many people are drawn to following renovation-related businesses for home inspiration. Your company should be present across Facebook, Instagram and Pinterest, three of the most photo-driven platforms available today.
We recommend creating a posting strategy that allows you to target engagement, promotional and educational content. This encourages you to share case studies about successful projects, inform your audience about home improvement questions, and get feedback from your community on what they are interested in.
Video advertising, especially short-form video, is highly sought after by online users today. In 2022, video has proven to convert more leads and sales than any other type of marketing campaign. Home improvement businesses can use video to show off their complete projects, share customer case studies, display before and after walk-throughs, explain their services and more.
We recommend doing a video case study on your website that reveals a client's before and after home improvement. If you get approval from the client, they can explain their pain points, concerns, vision for the project, and how your company helped them. This content can be used on your website and then repurposed on social media.
Local Campaigns and Discovery Campaigns
Perhaps one of the most lucrative digital marketing strategies for home improvement businesses is local campaigns. Local campaigns target customers in your local area, helping improve your store visits and organic traffic on a granular level. This is a great way to maintain a competitive edge in the marketplace.
Similarly, discovery campaigns are a type of Google Ad campaign that allows businesses to use image ads to reach users across a variety of platforms. If you are a local business, you might want to run ads on YouTube, Gmail and Facebook for customers that are searching for home improvement-related topics. By incorporating these two digital marketing campaigns, you can raise brand awareness and target customers that are seeking out similar services.
We recommend getting involved with local campaigns to boost your brand awareness and attract more local customers. Make sure to fill out all of your business information and post a high-quality photo that showcases your work. After completing a project, encourage your customers to leave a Google review to build brand trust for future prospects.
If you are a home improvement, renovation, or furnishing company, now is the best time to build a rock-solid digital marketing campaign that converts. We have extensive experience helping home improvement companies get more homeowner leads while driving sales through proven digital marketing tactics. Contact us today to get started increasing your revenue and business potential.
We'd Love to Hear from You
Bespoke digital campaigns

Achieve a more efficient linear workflow

Streamline communication

Allow for more adequate comparisons

Deep data analysis to adjust and readjust strategies for success