How Social Commerce Can Help You Increase Sales
by Chun Lee in Marketing Strategies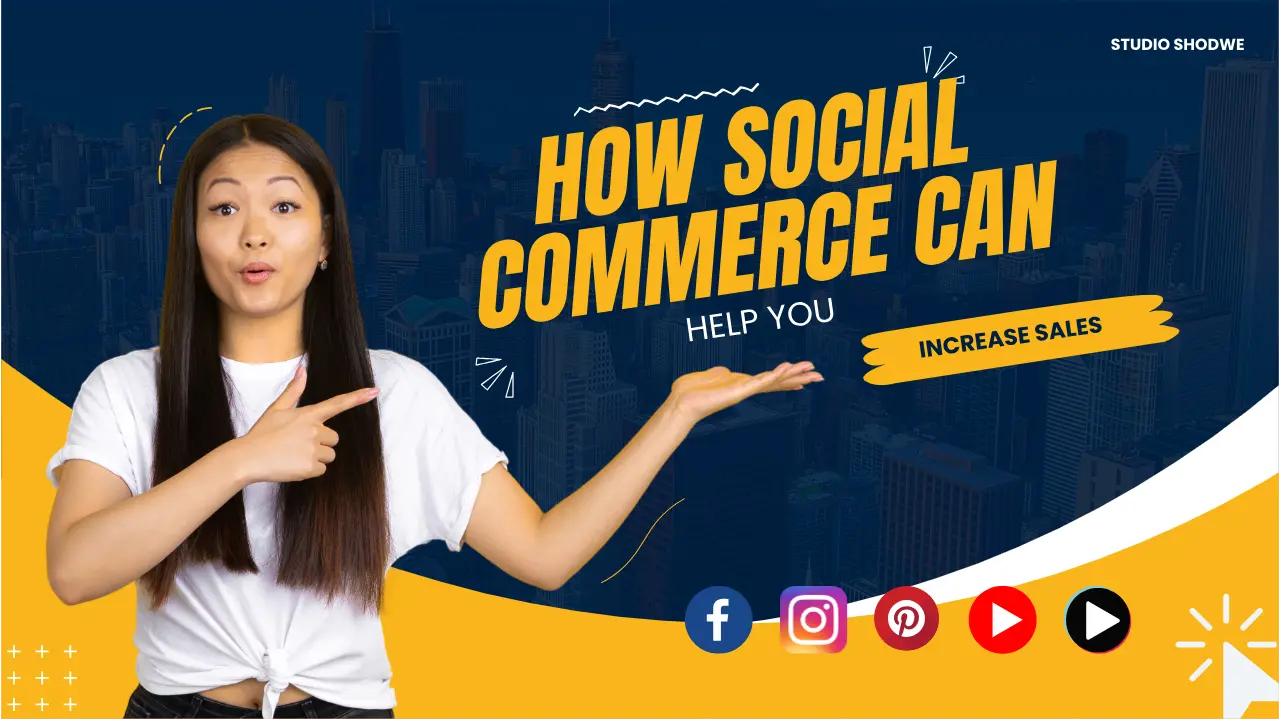 According to research, people visit their favorite shopping spots for much more than service and value.
Personal satisfaction and social motives are among a shopper's strongest motivations. Social motives
include hanging out with people with similar interests or learning from a reference group. Shopping also
meets a shopper's need for social status.
The age-old need to socially interact with people of similar affiliations through shopping makes social
shopping a contender for the most rewarding eCommerce sales strategy. Accenture says the social
commerce industry will grow into a $1.2 trillion sector by 2025.
Social commerce is a digital marketing strategy that places your services and goods on social media
platforms. Shoppers can interact with people of similar affiliations, widening customer reach and brand
audience.
Additionally, it enhances access, convenience, and immediacy by placing your products where your
target audience is. Over 4.9 billion people spend an average of 2 hours and 24 minutes daily on
platforms like Facebook, YouTube, WhatsApp, Instagram, WeChat, and TikTok.
Benefits of Social Commerce
Unlike classic forms of marketing, social marketing focuses on your customers' needs rather than your
brand's needs. Its benefits include:
Infusing digital marketing with the interactivity missing in the ordinary e-commerce marketing strategy.
Eliminating friction by easing product discovery on the platforms that your users love, enhancing customer experience and satisfaction.
It has the potential to supercharge profits.
You can collect credible and useful customer engagement data via social commerce platforms.
Social commerce opens doors to a highly targeted audience. Over 58% of Gen Z and millennial US shoppers make purchases on social media.
How a business can utilize social commerce
Say that your coffee shop's delicious caramel coffee flavor sales are floundering. How can social
commerce supercharge your sales? Well, 74% of shoppers use a variety of social media channels to
weigh their purchase decisions. So, you should build a cohesive, frictionless experience that takes them
through all channels for a stronger unique value proposition. Some of the most rewarding social
commerce platforms include:
Do you know that Facebook is home to 250 million shops? A Facebook shop and page is an excellent product discovery platform. So, you can share news of discounts, flash sales, or new product variants via the Facebook page, shop, or Messenger. Your fans will discover your caramel coffee discount via a Facebook notification. They could check out by tapping your shoppable posts and picking up their coffee on their way to work.
Do you know that 60% of shoppers discover new products on Instagram? Instagram Business supports
customizable storefront pages. Curate your products and enjoy unrivaled product discovery benefits on
IG.
You can also feature your coffee on your shop tab, stories, Ads, or sell via direct messaging. Instagram is
also a product influencer's playground. So, you can offer your loyal shoppers commission off the
products they love. They will send your caramel coffee links to their friends for commissions.
A Pinterest Shop's Product Pins support a seamless checkout on the platform in the US. Its Rich Pins connects IG shoppers to your e-commerce site. Over 89% of shoppers visit Pinterest for inspiration when making purchase decisions.
Alternatively, use live streams to increase brand awareness and interact with your customers. Live
Streams can positively impact your conversion rates, offering 10X higher conversion rates than classic
digital marketing alternatives.
Other potent live stream platforms include Facebook Live and Twitch. To illustrate the potency of social
marketing, in 2021, Chinese social media influencer Austin Li Jiaqi sold goods worth $1.7 billion in 12
hours via live streaming. In the lead-up to Alibaba's annual shopping festival, he had over 250 million
eyeballs locked on his live stream, despite an economic slowdown in the country.
Alternatively, build a TikTok Shop and announce your discounts via in-feed videos, the product showcase, and the LIVEs feature.
Many businesses go the extra mile to provide service and value to their customers. Get ahead by leveraging social commerce apps to increase profits and brand loyalty.
We'd Love to Hear from You
Bespoke digital campaigns

Achieve a more efficient linear workflow

Streamline communication

Allow for more adequate comparisons

Deep data analysis to adjust and readjust strategies for success